Paul Sheahan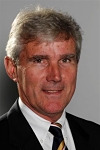 Paul Sheahan spent his professional career in education, first teaching Mathematics at a number of independent schools in Victoria and the United Kingdom, before taking on the responsibility of heading two schools: The Geelong College for nine-and-a-half years and then Melbourne Grammar School for fourteen years.
In addition, he played Test cricket for Australia in a career spanning the late-1960s and early-1970s.
Since retirement from the education scene, he has been involved with a number of other community activities, including board positions on not-for-profit institutions.  He is also President of the Melbourne Cricket Club, the club entrusted with the management of that sporting icon, the Melbourne Cricket Ground.
Paul is particularly keen to facilitate ways for people who have had a relatively privileged upbringing to in turn provide similar opportunities for others from financially disadvantaged backgrounds.