The Melbourne Foundation has awarded three scholarships since 2007. Two of these scholars, Khuzair Rehan and Evan Avtzis, have completed Year 12 (see biographies below). The third scholar will complete VCE in 2017.
Khuzair Rehan – Melbourne Foundation Scholar 2007 to 2010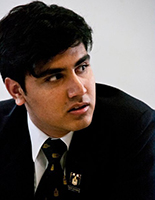 Khuzair was the first Melbourne Foundation scholar, an experience which has made a great impression on his life.  Khuzair comes from a close and supportive immigrant family and although they had recently experienced health issues, his parents were determined for their children to make the most of a life in Australia.
Khuzair indeed made the most of being a Foundation Scholar and rose to house captain at Melbourne Grammar School, whilst achieving a VCE score that has enabled him to pursue his dreams.
It was by complete chance that I heard of the scholarship being offered by The Melbourne Foundation and had no idea that I would ever be so fortunate as to be the recipient.

The selection process was well structured, encompassing and evaluating a range of criteria. The extensive nature of the selection process ensured that students were not only tested academically, but that each individual was assessed for their co-curricular potential and the likelihood of them assimilating into the Melbourne Grammar culture.
Khuzair received the Foundation's full scholarship and entered Melbourne Grammar School in 2007.  It was a year of change and adjustment into a new environment in which he flourished.
Education wise, Melbourne Grammar was state of the art. Boasting plentiful teaching facilities, a range of subject choices and exceptional teaching staff, I was finally able to make the most of my academic potential. Not only that, I was taking part in school camps and both interschool and intraschool sports, experiences that I had not contemplated at my old school.

In my ultimate year I was part of the senior school leadership body, serving as Morris House Captain, one of my most defining experiences at the school. This role marked a period of transition for me, giving me a newfound confidence in myself and a heightened understanding of those around me.
Khuzair was not only able to gain house captaincy but also achieve a superb VCE result of 99.80, enabling him to attend the university course of his choice and fulfill his dreams.
At the culmination of my schooling tenure after a gruelling year of VCE studies, I achieved an ATAR score of 99.80. It was a great feeling after all the hard work that went into the year, and a relief to be able to study a Bachelor of Engineering and a Bachelor of Commerce at Monash University.

As I look back on the four years, I can truly appreciate the significance of my schooling years. Not only did I gain in terms of education, but Grammar was a place where I developed as an individual through my relationships with peers and staff. From the shy young boy who entered in Year 9, I left Year 12 as a confident and self-assured man.
Evan Avtzis – Melbourne Foundation Scholar 2009 to 2012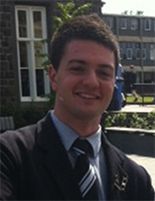 Evan was struggling to reach anywhere near his potential and knew he was not on a path to success when he applied for a Melbourne Foundation scholarship.
Evan's parents, on disability welfare, knew their son could achieve far more given the right opportunity.
Although I paid attention in all of my classes and attended all extension classes on offer, I could not help but feel that I, like many of my peers, was somehow not reaching my full potential; I began to question the fairness of the world around me. This underlying feeling of incompleteness was soon altered though through the most unlikely of means.

There are no words to describe the feeling of elation that swept over me as I learnt of my success on gaining a Melbourne Foundation scholarship, though I believe this too would have paled in comparison to the immense sense of pride my parents and entire family felt upon hearing the wonderful news.
Evan went on to make the most of his time at Melbourne Grammar, growing immensely as a man and partaking in the rich cultural experience on offer.
I have no doubt that my attendance at Melbourne Grammar has changed who I am as a person, though I would not trade the experiences I had while attending the school for anything. As a result of the scholarship I received I was exposed to a variety of experiences which I otherwise no doubt would have been denied.

The culturally enriching musical recitals held at lunchtimes, skiing for the first time on camp at Falls Creek, attending Parliament House in Canberra during a politics excursion and the grueling week long rugby camp at the Sports Super Centre in Queensland; countless memories that I will treasure for as long as I live.
Evan's enthusiasm for the extracurricular was matched by his academic work ethic.  This culminated in excellent VCE results and he gained entry into a Law / Arts degree at Monash University.
The receipt of the much dreaded text message from VCAA to reveal my ATAR at 6:53am on Monday the 17th of December proved to be one of the happiest days of my life. A simple number was enough to validate the hard work I had put in throughout my four years at the school and I do not believe that I could have obtained a 97.45 or the subsequent scholarship I received by Monash University had it not been for the assistance of The Melbourne Foundation for which I am eternally grateful.

The receiving of something as small and seemingly trivial as a letter, from those who themselves received a similar 'trivial' letter, has provided me with a wonderful opportunity; one which I one day hope to be able to offer someone else.